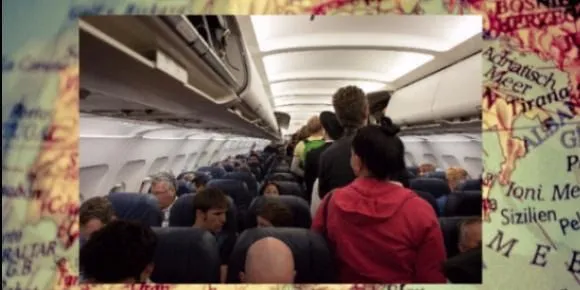 Travel Plans or Travel Pains
Summer is in full swing, which means summer vacations. Vacations mean exploring our world and spending time with the ones we love. But they can also be a pain in the neck--literally! Let's talk about what you can do to feel good and enjoy your time away.
Packing and transporting your luggage is one of the biggest hazards I see when treating people who have just returned from vacation. Most of us have an eye on where we are going and don't focus as much on the process of getting there. Use the acronym TRAVEL to remember these tips for a pain-free trip:

T - Twisting (and bending) are to be avoided. When disembarking from a plane, or getting your bags off a carousel, hang back and let the crowds thin out. Trying to unload as fast as you can leads to improper lifting techniques, which puts you at a higher risk of injury. The best way to lift is with your feet squared up and bend straight forward. Use the same rule when traveling by car.

R - Rehdrate! Recycled air in airplane cabins can have a dehydrating effect. Additionally, the swelling of the feet, ankles, and legs that happens when flying is much worse when you are not properly hydrated.

A - Attire should be appropriate for the situation. Loose clothing and quality shoes are essential for the trip. You may end up with quite a walk in an airport to get the luggage or change gates--don't hurt your feet before you even get to where you are going!

V - Volume control is essential; keep your bag light, even if you have a bag with wheels. At some point, you're going to have to lift the bag, and the lighter it is, the better!

E - Exercise is possible, even in a car or on a plane! If you're driving, take frequent breaks and walk around for a bit. Stretching helps too, and is much easier to do on a plane. Here are some in-flight exercises that can keep you feeling well.

L - Luggage should be checked, and if you have a carry-on, try to keep it small. The overhead bin is a very awkward place to put a bag. The aisles do not allow you to position yourself well for an overhead lift, especially of a very heavy bag. Try to keep carry-ons small enough to stow under the seat.

We also have a few items at the office that are great for keeping you feeling good while you are away: sunscreen, bug spray, and magnagel. Our sunscreen is organic, GMO-free, biodegradable, and completely non-toxic. It has also been tested and approved by our resident red head! Our bug spray is also all-natural; made with vanilla and lemongrass instead of DEET so you can smell great while avoiding bug bites. Magnagel is a magnesium gel that can be used for sore tight muscles. Magnesium is a natural muscle relaxer and after a long day of travel or walking in a new place, it's great for those sore muscles.

If you don't have time for a full week of vacation this month, try just an hour! All sixty minute massages are buy one, get one half off this month--that means you get two for just $105. Call today to schedule and remember: everybody deserves to take a vacation. It's our job to keep you feeling good while you do.
---