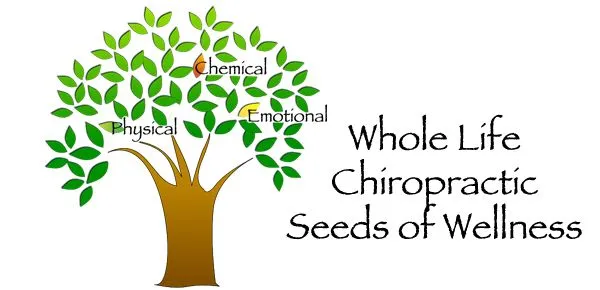 Happy New Yearl! I hope it's off to a good start for you and yours. As we move into the new year, we look to the future and what it holds for us, the goals we have and what we want for our lives and health. 2018 is going to be a big year for Whole Life Chiropractic, too. We will be doubling the size of our office! We have also decided that one of our goals for 2018 is to increase patient wellness education. With that in mind, Whole Life Chiropractic is introducing our Seeds of Wellness program. In the year to come, each month will be dedicated to one of three different areas of stress: physical, chemical, or emotional, and will focus on what you can do to improve them.

One of the most common questions I hear from patients is "why do you think this started hurting?" I have broken the possibilities down into three categories:

Chemical Stress→ This includes the things we put in our bodies (food, alcohol, drugs), the things in our environment (allergens, pollutions), and what we put on our bodies (soaps, perfumes, fabrics).

Physical Stress→ This includes falls and accidents, and is probably what people most often think of when trying to pin down the causes of their pain. But physical stress also comes from daily activities like how you sit at our desk, or repetitive actions, like typing. Exercise can also be a physical stress.

Emotional Stress→ This stressor is the hardest to pin down and change. Common triggers might be money, kids, or work. Individuals have different levels of this kind of stress all the time, but for most of us it fluctuates based on what might be going on in your life. How you handle high-stress times plays a big role in your health and wellbeing.
Each month, we will explore different aspects of each of these areas and plant the seeds of wellness that we should all strive for. We will also be interviewing experts from around Kansas City to learn better techniques for improving wellness. Resources will be available for your use if you find that one of these Seeds of Wellness is a step you need to take. If you see something that a person you care about would benefit from, feel free to pass it on! We want everyone in the community to grow in wellness in 2018. Look for these posts on our Facebook, the Whole Life Chiropractic website, and in the office!
Excellent health comes from within, and understanding the impact of your day-to-day decisions can help you live a happier, healthier life. That is what I wish for each of you in the coming year.