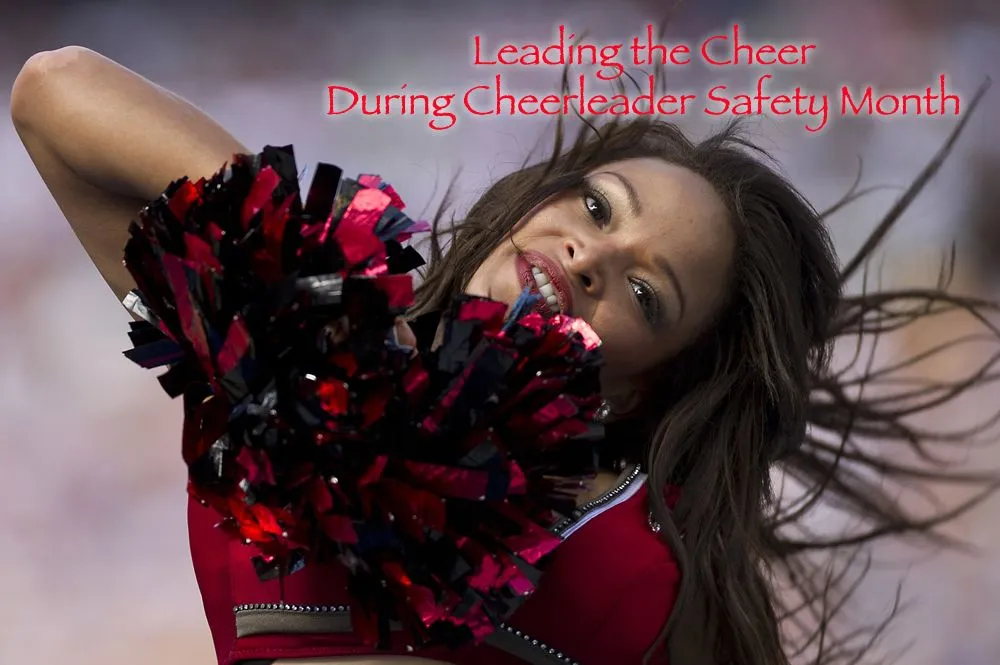 LEADING THE CHEER
by Dr. Nicole Murphy
Recently, I found myself talking with a friend who is a cheerleading coach about the injuries she has dealt with since becoming a coach. They were pretty intense. Concussions, dislocated knees, broken arms...the list was long. When I learned that March is Cheerleading Safety Month, I decided it would be a good topic for this month's article. Cheerleading is known for being a sport with a higher rate of injury. In fact, it's 16th overall for sports injuries and number one for catastrophic injuries in females. The most common injuries are ankle sprains, followed by neck and back sprains, and then concussions. So what can cheerleaders do to be safer?
Get cleared for participation by getting a sports physical.
Train with a qualified coach, and get gymnastics training too. Learn how to be safe when stunting with a partner. A flyer needs to know how to dismount and a base needs to know how to safely spot for themselves and the person they are spotting.
Conditioning for endurance and core strength.
Coaches should supervise all practice sessions in a safe facility.
Mini-trampolines and flips or falls off pyramids should be prohibited.
Pyramids that are over 2 people high should not be performed (unless at the college level), and 2-high pyramids should not be performed without mats and proper spotter.
Basket tosses should not be performed on a gym floor without a mat.
If it is not possible to have a physician or certified athletic trainer at games and practice sessions, emergency procedures should be provided.
An emergency plan should be available in writing to everybody involved in the program, including the athletes.
When a cheerleader has experienced or shown signs of head trauma (eg, loss of consciousness, visual disturbances, headache, inability to walk correctly, obvious disorientation, memory loss), he or she should receive immediate medical attention and should not be allowed to practice or cheer without written permission from a physician.
Cheerleading programs should have a risk management plan and strategies to promote all aspects of safety
One thing I can't stress enough with cheerleading--or any sport is not to "play through" an injury, especially a head injury. The body and the brain need time to heal. Not waiting can increase the healing time or even create further injury, making it harder or impossible to return the sport you love.

Chiropractic plays a positive role for many young athletes. For a cheerleader, chiropractic can improve mobility and patterns of movement. After an injury, chiropractic can get them back to the sport they love sooner. My goal is for young athletes to be able to participate in the sport they love for as long as they desire. I hate to see them forced out because of damage they have done to their bodies. Additionally, I see many former athletes who regret the punishment they put their bodies though before they realized that unsafe sports practices could cause them pain for the rest of their lives. Start chiropractic care before you have an injury and you are more likely to be in better condition and, if you are injured, are more likely to be able to return better and stronger than before.

Stay safe and Cheer On!

More information on concussion guidelines for cheerleaders.
---